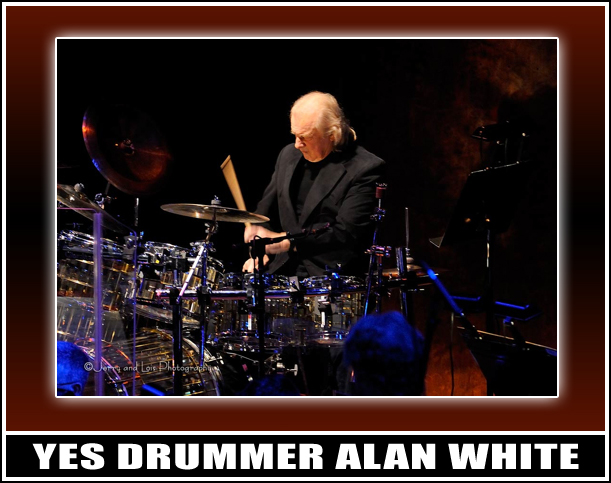 YES has a three-album back-to-back-to-back concept concert tour happening this year. How do you feel about it?
I feel pretty good. We've never really done it before. We've done tours in the past for the album, Tales from Topographic Oceans, and played the whole album. It's a four-sided album. Then, we did Close to the Edge as our encore number. It was a pretty long set. We did it way back then. It was only one album, but it lead to an almost three-hour show. It's interesting to go back to that format. We've played most of the songs on all the albums. We've done them in different sets, but we've never played them in order as they are on the album.
How long do you think the time duration of the show is actually going to be?
We do two albums then a 10-15 minute break and then play the whole of the last one. I think, with the break, it'll be about two-and-a-half hours.
Are you worried about losing your energy?
Most of our sets are already between two hours to two hours and fifteen minutes.
How do you feel about the evolution of the industry today?
It's taken a turn for the worse with the invention of computers and all that stuff. The good part about it is that we can make albums with computers nowadays. On the other end of things, you can download pretty much everything. Even if you put a block on it, there are always still versions of everything we put out, available, out there. You can't control that. What it did is basically stop putting money into the bands' pockets and record companies' bank accounts. That's why many smaller, independent record companies went under. Some of the big guys survived. Now you have a real nice revival though. LPs are starting to get a footing again. People want to see the artwork. They consider it a piece of art. It's not just something that you download and stick in the file.
Are you happy that vinyl has found new life with collectors and DJs?
It's good for the business. I'm interested to see how that develops. I know when I go to London and I walk around Portobello road, they've got these stores based solely in vinyl and the stuff is usually bought. People look for them.
You've been in YES for four decades now.
 I celebrated forty years in 2012. It's a long time to be in one band with some of the same group of people. Obviously, we've had many changes come in and out throughout the years. Chris and I have been the rhythm section for the last forty years.
What is the dynamic like in the band right now?
It's great. Fly from Here, our last album, was very well received in many places, especially Europe. It did really well for us and we all worked hard on doing that, creating something with Trevor Horn. He's obviously a great producer with a great record of accomplishment, but he knew how to handle YES and what YES should be sounding like in this day and age.
Have you noticed a difference in the reception of the newest album between American and European audiences?
Yeah, to a degree, if you play the largest U.S. cities like L.A. and New York, that's more like playing a London audience where they see so many bands that they just want to sit down and be pleased. They want to see what you've been doing compared to what everybody else brings to the table. However when we do our thing where play in the sticks, like Wyoming. They love it there. They grew up with us. That's the hardest thing for me to deal with is when I hear a fan say, 'I grew up with you. My dad used to play your records for me when I was a kid.' It's like ok; I don't want to be reminded of that bit quite right now.
YES influenced quite a few other bands. Do you hear your influence from other rock acts in the scene?
I listen to a certain amount. Some stuff I don't really get along with, but I kind of like music when it's good. Also, I like it when it's new, adventurous, and not using the same snare/bass drum sound. Rather than play the same old thing where you turn the drum machine on and have the drummer copy it, I'd like to get away from that sort of thing and add some spice to it. I feel that that's what U.S. music is all about. It's never the norm even though we do play things like those that are regular rock beats. We like to do make them slightly different from other people who like to do that music. For instance, "Owner of a Lonely Heart" is a regular rock kind of rhythm, but we changed it around a bit and added some dynamics to it. We changed the sound in different parts of the song. That's how we kind of experimented with that kind of stuff.
Do you hear how that song's sound with the effects used is similar and popular now in the electronic music scene?
I see what you're saying. Yeah, I don't know. I say work with the basic sound as much as you can in the studio so you can achieve as much as possible that way. When necessary, though, use effects.
What would you say to a musician just starting out today or a drummer wanting to be as successful as you are with YES?
Oh God, it's a battle. There are many great drummers. All of them are slightly different and in to playing all sorts of different music. Really, what do you say? I usually respond to that question with, 'what avenue?' Jazz drummer? Rock drummer? Soloist? I'm not big into virtuosos and solos, but I will play them. I usually end up playing solos with less feel and off-kilter. People tend to like that; when they're trying to understand what the hell it is that I'm doing. I'm at a point right now where I like to go see all the different avenues of music. I don't like to categorize my sound. You have different genres that can influence you. You have your hip-hop. There are still some grunge bands, and progressive bands out there as well if that's what you want to see and do. There was a YES tribute band called Parallels, which is named after a song off our album, Going for the One, and they were really good. They had a vocalist named Robyn Dawn who is now in my local Newcastle, Washington band that I have called White. She has a great voice. She actually sounds a bit like Jon Anderson, but a female version of it.
Tell me about White.
White is really a collection of just some local musicians that are around my area. We've been around for about five or six years now. We made an album about three years ago. That was more of a collection-type thing. Many of our friends bought it to keep in their collection. We had the artist, Roger Dean, do the cover. We do occasional gigs. We don't do many for-profit gigs, mostly charity work. I'm involved in quite a few charities here. My band steps in and has a good, fun time. We make money for Music Aid Northwest. I'm on the board of directors and am one of the board founders with a couple of other guys and my wife. We do benefit concerts. We got it together originally to raise money for tsunami victims. Now, all the money that we make goes to music education in public schools in Washington State. We've earned a lot of money for them. Its good fun and we definitely do a lot of good doing that. We got this idea to a get a license plate passed in Olympia, the state capitol. It actually took three years to be passed. I went down there many times with my wife and a bunch of guys to meet with the lieutenant governor of the state. He was totally behind it. Eventually we got this license plate passed that says, "Music Matters" on it. If you buy this specialized license plate, $30 goes toward music education in the state. It's pretty cool. It's a known fact that the first thing that they cut is the music program in schools. Also, it's a proven fact that if a kid goes to school and learns an instrument that they do so much better academically. Most of the stuff White does is locally, in the area. Most of the guys in the band have day jobs and I don't want them to have to pack in their jobs. My girl singing works for Amazon.com. I don't want to take her away from her job when she's getting a good salary.
Where do you see the industry going with the way it is?
There's been a turn around with record factories opening back up. Maybe there's hope yet that money will start flowing and it won't be the end of things. I hope that it will help musicians and record companies. Ultimately, it will afford bands to be able to go on the road the way that they want to and do better shows. It's a big circle.
What should YES fans expect in the near future?
I'm really looking forward to playing this next tour. Playing every album in its entirety is quite a task actually. Some of the songs on the CD, or vinyl, are somewhat rare. We're going to make sure that we have fun doing it and keep it up to the YES standard.
Having worked with John Lennon and George Harrison, how do you feel about Ravi Shankar's recent passing?
That's awful. I knew he was getting up there in age. That's a sad loss. The guy was amazing. I have seen him play many times. I never worked with him, but I met him once backstage to say hi. Many of the good musicians are getting up there in age. Many of those musicians who were at the Hurricane Sandy Relief show in New York are up there. Many of the guys on the bill are really getting old.