Interviewed by Jonathon Freeman-Anderson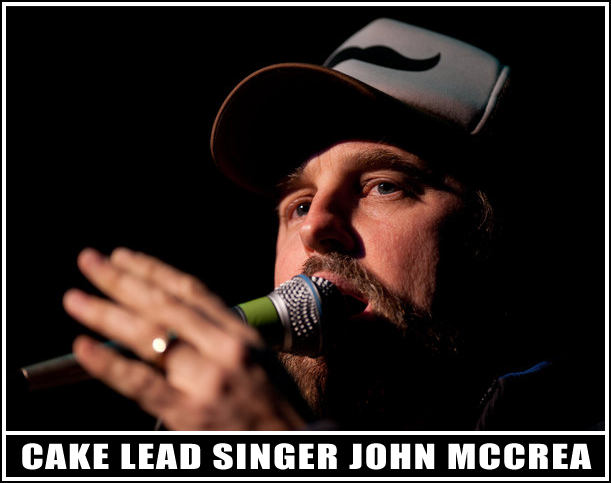 CAKE recently performed this New Year's Eve at THE WILTERN in Los Angeles. Known for their hits, "The Distance," "Never There," and "Short Skirt/Long Jacket," Cake's 2011 self-release, Showroom of Compassion, hit #1 on the Billboard 200 album charts, proving not only the band's longevity, but also their cultural relevance as a pioneering and prodigious staple of contemporary music history.
Cake is an American alternative rock band from Sacramento, California. Consisting of singer John McCrea, trumpeter Vince DiFiore, guitarist Xan McCurdy, bassist Gabe Nelson and drummer Paulo Baldi, the band has been noted for McCrea's sarcastic lyrics and deadpan voice, DiFiore's trumpet parts, and their wide-ranging musical influences, including country music, Mariachi, rock, funk, Iranian folk music and hip-hop.
In a recent interview, lead singer John McCrea discusses the current state of music with the Internet, the benefit of a band to have cheap rent, and that the anomaly of Cake's continued survival is partially because they are outsiders.
"We are not part of a 'next big thing.' We never have been part of a big movement, cultural phenomenon, or explosion. So when the police come and bust the party, we weren't invited to the party. So we can still exist I guess."
---
Your home base is in Sacramento. Are you on the road more of the year usually than at home?
When we are touring, yeah, it is kind of like that now. It's like that for a lot of bands.
Why did you decide to play Los Angeles for New Year's Eve?
Well, we hadn't played Los Angeles for New Years. We have played other cities but we've never played there. We thought we would give it a try. We love L.A. It's a really good music town.
You did live in L.A. for a little bit.
Yeah, I lived not too far from The Wiltern. I lived in Koreatown for a little bit.
After you lived in L.A., you moved back to Sacramento. Did you find more opportunity back home?
Well, I found cheaper rent when I came home. I think for musicians increasingly, it is a matter of getting to spend more hours doing the thing that you want to do which ostensibly is music and fewer hours having to wait tables, drive trucks, and/or whatever else you have to do to pay the rent. So, cheap rent is an amazing gift for musician's that are trying to make a living at their craft.
Have you noticed the cost of being in the industry going up or down?
I just read a statistic from the Department of Labor between the years 2002 and 2011 that we have lost 45% of our working musicians in the United States. So, that is 45% fewer people able to file taxes as musicians, call themselves musicians professionally. That's kind of huge actually.
The Internet is supposed to provide the ability for more musicians to put their sound out there and give people the opportunity to listen to more music.
Unfortunately, the Internet hasn't lived up to its promise. I think powers coalescing around some big companies have found through ways of distribution methods of monetizing other people's work. In other words, there is a massive transference of value and wealth from people who make things over to people that distribute things over the Internet. It's sort of becoming the 21st century technology and service of feudalism, really. Where journalists, independent filmmakers, artists, musicians, photographers and the like are expected just to produce work because we love what we do while other people monetize it. I just had an opportunity to visit the Google campus not too long ago. It was crazy, really. I never felt so much like I was visiting Ancient Rome during the height of their power. So there's been a very obvious thing that's been happening. At a certain point, musicians, journalists as well, probably need to find a way to aggregate power. Find a way to collectively bargain.
It seems difficult to get music out there without, on some level, having to conform to somebody else's idea of what they want from you. How do you deal with that?
Yeah, that's the thing. It's not worth it to do something musically. Especially if you really love music, do something that you don't like in order to make money. If you can't make money doing something that you like, you might as well do some other job and then keep your music pure. Make sure that your music is still something that you like. I was lucky enough to have a music sensibility, an aesthetic that was palatable to enough other people to the point where I could make a living, at least fleetingly. Actually not fleetingly, I can't believe that our band still exists after this much time.
Your 2011 album, Showroom of Compassion, debuted at #1 on the Billboard Top 200 charts.
Yeah, we took a risk on self-releasing our album during a time of precipitous decline in music sales. We really feel grateful that there were still enough people who think it's not foolish to buy an album and support us. It was seven years since the album before. Just to have anybody remember you that long is pretty amazing.
Not your music, but clearly your actions, seem almost punk rock in your desire to maintain your own control over how it sounds and the videos look. It must be a great opportunity to have that freedom.
Yeah, it was not so much about hormonal rage or fighting the man so much as just being able, personally, to remain interested in what you are doing. If you hand over all the decision making to other people, I think it becomes less of a life's work and more of a 9 to 5 job. I know bands that have lost interest because of feeling that many of those things have been taken away. Yeah, we have sort of jealousy guarded our autonomy. I think that it has worked for us because I still find it interesting and exciting sometimes.
You are played on Rock stations, but your sound does not seem to fall into any one specific genre.
Yeah, they play us on stations where many times, personally, I can't listen to a lot of the music around our music. I'm not trying to diss anything or any genre. I don't listen to a lot of rock, I guess. It is hard for me to understand where we fit in.
In a certain respect, would you consider yourselves an anomaly?
Yeah, I think so.
It seems to be a benefit.
Well, it has allowed us to survive. Every three years, there is a new group of important bands mostly. Back in the very beginning, we played these radio festivals where we were opening and it seems that everybody there was a way bigger deal than we were. Then three years later, we release another album, play the same festivals, and it would be a totally different group of faces. We were still there. Then, another three years later, it's the same thing, none of the same people. Bands are sort of flushed down the toilet really quickly by the fickle whimsy of an overfed cultural marketplace. Whatever the reason, I think partially we were allowed to survive because we are outsiders. We are not part of a next big thing. We never have been part of a big movement, cultural phenomenon, or explosion. So when the police come and bust the party, we weren't invited to the party. So we can still exist I guess.
Would you say that we live in a culture of mass A.D.D.
Yeah, I think there is a certain amount of self-loathing in our culture. So, when something does become really popular and the people really like something, I think that there are people who sort of automatically turn off. It is as if you are suspect if the people like you. That is not necessarily something that I think is so healthy, but it certainly does a good job of cleaning things out. In some way, I think it is kind of wasteful because I don't think that cultural criteria should be used to judge musical criteria.
Culturally, we are living in the era of the single.
That's right, but there is also good music thrown away because people wear a different kind of pants. I think that is wasteful and disconnected from the real sort of power, which I think, is musical.
What do you do for inspiration?
One of the things that keeps me interested in music is that I don't feel obligated just to listen to one genre. I really enjoy opera and I enjoy country western. I like old hard rock, Brazilian Bossa Nova, Mexican Ranchero music. I really love Middle-Eastern music. I think that keeps me excited about music. If I felt culturally obligated to stay behind a certain boundary or else I would have to wear a different style leather jacket, then I feel that that would be cumbersome, physically.
You wouldn't want to pigeonhole yourself within a genre.
Yeah, for me, it's about remaining flexible and just making it about musical criteria as opposed to cultural criteria.
Have you found a difference in the audiences throughout the rest of the world compared to U.S. audiences?
Yeah, I find that there are audiences that are more or less encumbered, sometimes, by self-consciousness at a live music show. It is strange to me when we're traveling in a country like Turkey that people are singing along to "Stickshifts and Safetybelts." That was really bizarre. Our first visit there, we didn't know that we had become popular there. We just kind of showed up, there were a lot of people, and they all knew the words. That didn't answer your question. Yeah, it is sort of mind-blowing that music can kind of communicate over some huge cultural boundaries and differences.
How do you use the time during the day to incorporate all the things that you are active in and include music?
I don't know. I don't feel that I'm ever actually getting that much done. I feel pretty overwhelmed by all the stuff that I'm trying to do. I guess that is a good thing, to be busy. I think just like anybody else. People have many interests and generally, you are not going to be able to do it all.
On the scale of how you're trying to help the environment and change the world, do you see yourself more like a Neil Young, a Willy Nelson, or a Bono?
No, not really, I'm not an idealist. I'm a pragmatist. I think those people mentioned are more idealistic. I just think that we need to get shit done.
Do you have any advice for an up-and-coming artist trying to make it in the scene or a musician just starting out?
Cheap rent. It doesn't matter what town you live in now. Because of the Internet, its blown open the walls that were there in terms of gatekeepers, power of the city, or sort of entertainment hubs of New York, L.A., and Nashville. You can live anywhere, start a band, and make a great album anywhere, which is really, something excellent. That is the thing to focus on. If there is anything in your way then you have to get rid of that. If you are paying a bunch of rent for a nice apartment, live in a shitty apartment. That is my advice.
Go to Cakemusic.com for more info.